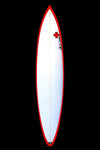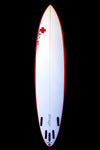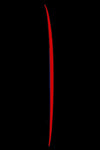 G-Money II Gun
* 3D/AR shown is of uncustomized board
99 out of 100 times, when I make big wave boards they are G Money II's!
I started making and refining them in the Canary Islands 6 or 7 years ago. We have done heaps of them since for places like Puerto Escondido, the cold slabs of Ireland, the heavy winter beach break of Ocean Beach, San Francisco, Todo Santos, Baja and the North Shore.
The lower nose rocker, fuller outline up front with thickness added under the chest area work together to get you in and over the ledge. The tail is pulled in like a proper gun with a clean combination of double barrel concave to vee, with just the right amount of rocker out the tail. The last 1/3rd of the board tapers and is foiled out so sublimely that you hardly notice all the thickness up front. These design elements allow the boards to paddle insane, handle late drops, go on rail easily, and are super maneuverable! Check the size and volumes chart for an idea of what might be right for you, then we will discuss and make the custom gun that is just right for your size and ability- it will enable you to chase those heavy waves with confidence!
"When it comes to barrel riding, especially in heavier waves, the G Money II is the best gun for the job. I have been using them for years at heavy beach breaks. Doc leaves the foam in all the right places to give you paddle power for those steep drops, but once in the barrel, the board maneuverers amazing, allowing you to pump and weave through tricky beach break barrel sections. The G Money II has been a game changer for my barrel riding." -Kurt Rist
"I have been riding the G Money IIs for a long time and it is definitely one of my favorite surfboard models! I love everything about it, it helps you get in early in super heavy waves, even into mushy waves. It is super fast and responsive- in short my G money IIs have been magical!!!" -Coco Nogales